In July our Virtual Run Club is diving in to a 30 Day nutrition challenge, to improve not only your performance, but your health.
This topic is HUGELY important because doing it wrong (hello drastically cutting calories, not fueling runs, counting macros just to eat lots of Pop Tarts) leads to hormonal issues, crappy runs and regaining weight.
Instead of being overwhelmed by all the information, we're going to break it down in to actionable pieces and help you create the plan that WORKS for YOU.
What to expect:
Registered Dietiain Serena Marie and Coach Amanda Brooks providing a full 30 Day Nutrition Challenge – inclusive of 15 videos, modules, LIVE discussions and downloads
Discussions of calorie needs of runners, understanding macros, creating your own personal plan
Discussions of what to eat before a run, during a run and post run to maximize your nutrition
Discussions of how race day nutrition is different
Access to 7 Running Coaches for all your training questions
Access to the 30 Day Core Program and Running Technique Program
Exclusive Discounts to On Running, UCAN, Previnex, InsideTracker, Resilience CBD, and more (amounts I can't share publicly!)
Register by JULY 1st to get these additional freebies!
Free Running For Weight Loss Guide
Free Running for Weight Loss Training Plan
Meghann Featherstun RD – understanding Intermittent Fasting as a female and as a runner
Cortney Berling Dietitian – why am I so hungry all the time?!
Tips to reduce sugar intake (download)
Tips to increase your intake of fruits and veggies (download)
Printable daily tracker for water, veggies and workouts to stay on track
All of this is housed inside my entire Better Runner Blueprint Course.
Guiding you through all the steps of running your best, while staying injury free. (Videos on foot strike, hill running, racing and more.)
Plus, hundreds of runners who get you!! Starting from run/walk and progressing, we know the struggles.
Currently $19.99 per month, as of July 2021, price will continue to increase as more courses are added, but you'll always remain at that price for joining now.
Results from our August group focus on nutrition!
How to fuel before runs…
How to EAT MORE to lose fat and feel better on runs:

What happens after this month?
And of course the club doesn't stop with just the 30 Day Nutrition Challenge, if you stay with us we're going to keep rolling with nutrition, low heart rate training and starting to focus on strength training for runners along with a group half marathon focus.
Yes the group is an ongoing monthly fee.
Videos are accessible via the Thinkific platform where you register and the course is hosted
Videos can be watched in any order on any day if you need to move things around
You can cancel your membership at anytime, you aren't locked in for a set number of months
Coming Up
– Strength Training for Runners Video Series and Plans
– Continued Marathon and Half Marathon Group training
– LHR Training Focus
COMMON RUN CLUB FAQS
After talking on IG Stories about Virtual Run Club you had a lot of awesome questions!
Instead of sending out individual messages, I thought it was better to answer them for everyone because someone else is probably wondering too!
What if I am not currently running?
There is no specific running plan that anyone must follow in the group. Instead, this is a place to get answers, find motivation and hopefully help you build back stronger (especially when we bring in experts like Physical Therapists so you can ask questions!).

Are Training Plans Provided?
Customized training plans are part of our personalized coaching options, inside the group it's a lot more about helping you maximize your training.
Inside the group you will have access to some of our standard plans for 5K, 10, Half marathon and marathon.
Are there guys in the group?
Yes indeed! While we do have more females than males, we're continually getting more gentleman to join us because the tactics of training really aren't gender specific!
Do I need a FB Account?
You can access the course without one, but all the discussions and talks with coaches do happen on our Private Facebook Group.
We definitely have members who have a FB account just to join us there, so you don't have to make it a public account. I have tested other group chats in the past and this one just works most universally.
Will I be charged monthly?
Yes. It's a monthly fee to remain in the group with access to all the coaches, experts and guides. However, you are free to cancel at anytime and your price will never increase.
Our running community is about so much more than just race day. We have a bond that others may never quite understand and now is our chance to help support each other when we can't do it through high fives.
Who's Running this Show?
Pun fully intended because I love them! If you're new around here, I'm Amanda Brooks.
Certified running coach and personal trainer since 2012.
Author of thousands of articles about running and the book Run To The Finish, as well as a long time runner myself having covered over 26,000 miles.
I believe in researching everything and staying up to date on the latest information to ensure that you have it too! The 6 additional coaches in the group have been coaching for years, one is an RD, another is an Ultra queen and the other has been training people in person for years.
It's a combo of resources to answer all your questions.
I hope you'll come along for the ride with us because we always achieve more together than alone.
Other ways to connect with Amanda
Instagram Daily Fun: RunToTheFinish
Facebook Community Chatter: RunToTheFinish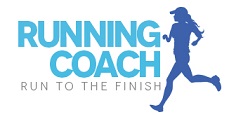 Source
30 Day Nutrition Challenge | 5K to Marathon is written by amanda for www.runtothefinish.com